You may think a Valentine Love Spell is a relatively new idea. But both the ancient Greeks and Romans honoured and celebrated mid February as a time for love, pairing and fertility, long before the Christians hijacked this special time and named it after St. Valentine.
Throughout the ages mid February has been associated with love and because of this a special 'love energy' is created at this time. Love, literally is in the air on February 14th and is therefore the perfect time to harness the love energy created by casting a special Valentine Love Spell.
Here I'm offering to cast for you a very special Valentine Love Spell on the evening of St. Valentine's Day, February 14. This Valentine Spell uses the love energy that abounds on this date to make your dream of a loving, lasting, faithful and committed relationship a reality.
Why spend yet another St. Valentine's Day feeling unhappy, unfulfilled, unloved, broken hearted and lonely?
St. Valentine's Day is the perfect time to have a Love Spell cast personally for you by me, Alizon. I am a genuine, renowned and respected English White Witch and have effectively Spell cast for many thousands of people throughout the world.
The special Valentine Love Spell causes harm to none, cannot backfire and does not force or bend the will of anyone. I work only in love and light and use only the positive form of White Magic. My Spells can only help and never hinder.
Whatever your current situation and however complicated it may be I am certain I can help. The special Valentine Spell I have formulated will be customised personally to your specific situation. So, whether you want to reunite with an ex lover, attract someone you have strong feelings for, find a true soul mate or gain commitment and faithfulness from a current partner or any other situation this Valentine Love Spell can be customised for you.
---
Valentine Love Spell
This Spell is Thrice Cast which means it is cast 3 times in one evening to add immense power and positive energy.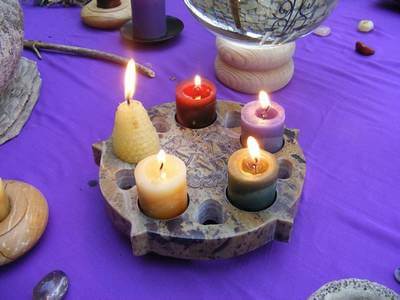 Cast 3 times for Powerful & Potent Energy. 
When purchasing this service from me you are assumed to have read my Terms and Conditions
After making payment Click Here to enter and submit your details on my Spell Details Form. You will be asked to provide:
Your name
Date of birth
Brief outline of desired outcome from the Spell
Once you have decided to have a Spell cast by me and I have all the details I need I will prepare to cast for you as soon as possible. I will send via email a full account of the Spell I will cast on your behalf.
I look forward to casting your Spell on your behalf. The moment I cast a Spell for you it immediately begins working on your request. After the Spell has been cast I will send you notification that I completed and cast your Spell.
Now you just need to expect the Magic to begin…
---
Missed Valentine's Day?
Don't worry if you have missed out on the St Valentine Day Magic, as there are other chances to have a very special Love Spell cast for you to allow your dreams to come true on other dates throughout the wheel of the year.
Love Spell Casting
Having a Spell cast can bring miraculous results very swiftly and can literally change your destiny for the better.
If you have an interest in spirituality, are intrigued by astrology, fascinated by Tarot cards or captivated by Psychic abilities, then the next logical step is to look into the power of Magic.
Having a Spell cast is Magic you can believe in.
And even if you are slightly skeptical, uncertain or wary, powerful positive energies combined with expert Spell casting will soon have you convinced in the power of Magic.
St. Valentine's Day
St. Valentine's Day, February 14 can be an amazing day if you are in love and have met your ideal match. You can almost feel the love in the air on this very special day.
Of course the ancients celebrated love, passion and fertility at this particular time of year before the festival became Christianised and given the name of the Saint who purportedly wed lovers in secret and was persecuted for his acts. He was of course St. Valentine.
Pagans and all nature based religions knew this time of the year as a time for pairing. Birds supposedly make their love matches – many for life at this time of year.
If you have been lucky enough to find your perfect life match then count yourself lucky and take the opportunity to show your lover how much you love and appreciate them.
If, however you are currently without a loving, faithful and committed partner then having a Love spell cast is the answer.
Valentine Love  Spells That Work
This is your opportunity to have me; Alizon, White Witch and Spell caster personally cast your own powerful Valentine Love Spell.
My Spells are cast in love and light, with harm to none and do not bend the will of anyone. In this way you can be assured that all positive ways to allow you your heart's desire are sought out.
Love Spells that work with the Law of Attraction are known to be very powerful and enable your wish or desire to be sent to the Universe swiftly and effectively.
I also offer a Free Spell in the form of a Cleansing Spell to remove any negative energies that may be surrounding you. This helps purify and cleanse your aura making you open and ready to receive positive energies and your heart's desire.